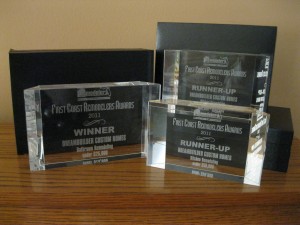 Dreambuilder has collected a number of awards in 2011 and now all of them can be viewed on our new Awards page on our website. 
"Being recognized by industry colleagues and peers is a great testimony to Dreambuilder's work," said Shawn Starr, president.  "We're proud and gratified to be recognized in this way."
These honors are another means for clients to have full confidence in working with Dreambuilder on their new home or remodeling project.  Contact us today to begin planning your own award-winning new home or renovation!