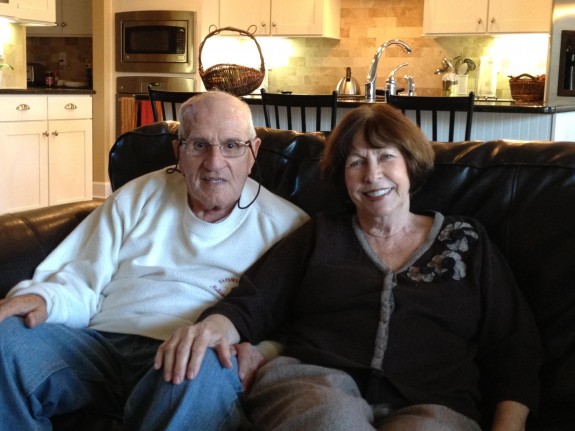 "It was indeed a fortunate day for my husband and me when our Realtor called and said that she had learned of new construction in The Sanctuary," said Sylvia Messinese.  The Sanctuary, Jacksonville Beach's only gated community, had been built out several years ago, and only handful of vacant lots were available for building.  Fortunately, Dreambuilder Custom Homes procured two of these lots for Dreambuilder Ten and Eleven — the second of which the Messineses purchased.
Dreambuilder Eleven is a beautiful, rustic, cottage-style home with an abundance of rich colors and textures on the exterior.  Generous stone, lap siding and board & batten siding in blacks, tans and greens create a vision of a forest retreat.  The four bedroom, two and a half bath home features 2,347 SF on two floors.
The Messineses contracted to purchase the home while it was still under construction.  "My husband has some special needs and we thought if might be a good thing to become involved with the builder while construction was underway," said Sylvia.  "The first time we visited the site, Shawn Starr, the president of Dreambuilder, assured us that there was time to make any changes we might deem necessary."
The Messineses appreciated the open floorplan, wider kitchen aisles and a first-floor master bedroom with roomy master bath.  Dreambuilder made some adjustments in the bath to better serve Sylva's husband Jimmy, such as grab bars in the water closet with an ADA height toilet, a bench seat and handheld unit in the shower, and a lower countertop with kneespace at the vanity.
But it was the beauty and high feature level of the home that sold the Messineses.  "Even without the desired adjustments, the house was already beyond our expectations," said Sylvia.  "It has all sorts of little extras — coffered and trayed ceilings, butler's pantry, lots of crown moulding, beautiful granite countertops, stainless steel appliances — just to name a few."  The Messineses appreciated the abundance of storage throughout the home as well as the smart use of built-ins, including the aforementioned butler's pantry as well as the desk tucked away underneath the staircase in what would have been 'dead' space.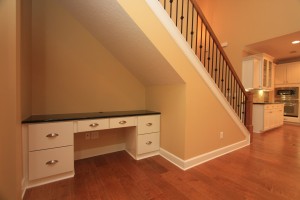 Best of all was the opportunity to create a better life for the Messineses in their new home with the changes they were able to make.  "Dreambuilder is certainly aptly named as it was a dream to work with, as well as having everything included one might dream of having in the finished product," added Sylvia.  "Nothing we asked of Shawn was too much trouble.  He worked hard to see that our every wish was fulfilled and to finish on time.  The whole experience has been a blessing."
You can see complete floorplans and pictures of Dreambuilder Eleven in our Dream Home Gallery, and complete progress pictures from start to finish are on our Facebook page.  You can also read the Messinese's complete testimonial.
Dreambuilder Custom Homes can help you build the home of your dreams anywhere in northeast Florida.  Contact us today for a complimentary consultation!