Starr® Custom Homes (SCH) is pleased to announce DreamDesign®31, a low country estate in Pablo Creek Reserve.
Designed in the classic style of the low country home of the Carolinas, DreamDesign®31 is a 3,141 SF, four bedroom, four bath, single story home with beautiful lake views from the main rooms of the house. The client wanted a traditional floor plan based on the zoning design concept: formal areas are in the middle of the home; the sleeping zone is to the left of the home; and the casual/family zone is to the right of the home. "Designing by zones has been a mainstay of home design for decades, beginning in the post-war housing boom all the way up to the 1970s and 80s," said SCH president Shawn Starr. "This design concept can still be a great choice for the client who doesn't want a completely open-concept plan that is typical of today."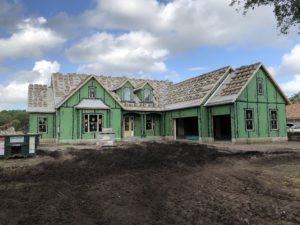 In fact, DreamDesign®31 adapts the open-concept in the casual zone of the home – just without making it the main feature of the design. The large kitchen with California island is open to the breakfast nook and the intimate keeping room, where the homeowner can retire with a cup of tea or a cocktail in the evenings, enjoying the lake view and perhaps a fire in the fireplace. The study or fourth bedroom is nearby, as well as the laundry, storage areas and garage access.
For family gatherings, the large central great room and lanai are the place to be. Featuring a dramatic vaulted ceiling and fireplace, the great room is separated from the dining room and foyer by a beautiful columned gallery. "Trim work will be a feature of this home," said Starr. "In keeping with the traditional nature of the home, there will be multi-step crown moulding, wainscoting, column details and fireplace mantels to design and build. The kitchen features a coffered ceiling with boxed beams as well."
The sleeping zone consists of three bedrooms, each with its own bath. Though the bedrooms are together, the master bedroom is separated from the others by placing baths and closets between them, providing privacy to the master suite.
"We love designing homes to help our clients live the way they want to live," said Starr. "Our goal is to create a design that fits their lifestyle and enhances it."
Stay tuned for further updates on DreamDesign®31 and contact us today to find out more about what we can design for you.