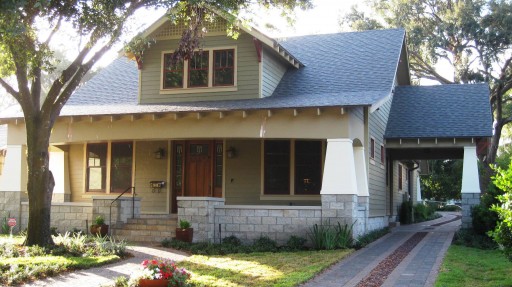 By Jean Patteson
The Orlando Sentinel
The Craftsman-style home of Tom and Vivian Ward looks so authentic that passersby assume it is a remodeled version of a house dating back to the early 20th century.
Although the home sits in Orlando, Fla.'s Lake Lawsona Historic District, where many of the homes do date from the Craftsman period (1905-1930), the Wards' home is brand new.
Only the distinctive new-home smell gives it away.
Originally, the couple planned to remodel the old house that sat on the lot, six blocks east of downtown's Lake Eola. Once they discovered it was too decrepit to be saved, they drew up plans for a replacement.
"To blend with this neighborhood, we could have gone Mediterranean or Bungalow, but we had fallen in love with the Craftsman style," says Vivian Ward. "It is so warm, inviting and comfortable. We're very low-key and laid-back. It's a perfect fit."
Working with architect David Runnels and builder Carlos Posada, both of Winter Park, Fla., they designed their dream retirement home — cozy enough for two, but able to accommodate visits from their extended family. It includes two large guest suites, a master suite, a wood-paneled study and a spacious, open upstairs. The large kitchen opens to a dining room with coffered ceiling and a family room with fireplace. Beyond is a tree-shaded back porch with summer kitchen.
In trendy terms, it is a "multigenerational, aging-in-place home."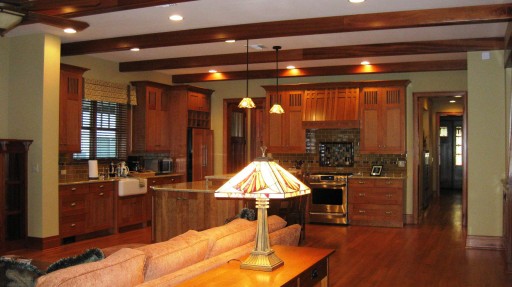 Because of its location in one of the city's oldest neighborhoods, the style and scale of the home, as well as details such as the setback from the sidewalk and drainage, all had to be approved by the Orlando Historical Review Board.
"It fits our extended family and also fits into the historical nature of the neighborhood," says Tom Ward, former chief information officer for Hughes Supply.
Set on a narrow but deep lot, the 3,800-square-foot house presents a modest facade to the street, but extends back quite a ways. The double garage sits behind the house, beyond a compact backyard designed by Frank Joseph Brooks and planted by Landscape Resources of Orlando.
Typical of the Craftsman style are the deep front porch with angled pillars, gently sloping roof with wide eaves and exposed beams, and porte-cochere over the driveway.
The interior also exhibits Craftsman styling: artistic stone, tile and stained-glass elements, 1930s-style lighting fixtures and draperies selected by the Gribble Interior Group of Orlando, quarter-sawn white oak floors, and exquisite cabinets by Cabinery Creations of Orlando.
"We love the whole house," says Vivian Ward. "But we are especially proud of the attention to detail."