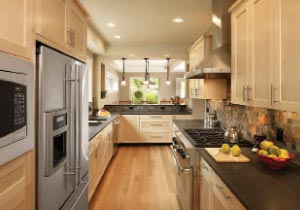 Our series on kitchen and bath design trends concludes with this project from Ann Arbor, MI.  The builder was able to create a beautiful, functional kitchen even though space was limited by its galley-style design.  Even if space is at a premium, Dreambuilder can help you maximize the storage, workspace and beauty of your kitchen.
By Andrea Girolamo, Kitchen & Bath Design News
New construction comes with a set of opportunities that is different from those presented by a remodeling project. Among them is the ability to work with a client to design an overall theme to the new home, a style that is reflected in every room, including the kitchen and bath.
The design team at Meadowlark Builders, LLC took advantage of these opportunities when working with the owners of a new home that the company built literally from the ground up, incorporating a host of green principles and a warm, contemporary design scheme.
Read and see more by clicking here.