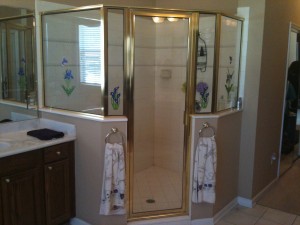 Dreambuilder Custom Homes is pleased to announce its latest remodeling project:  a master shower for the McElyea family in Eagle Harbor.  This remodel is special, however, because in addition to the typcial remodeling updates, Dreambuilder is making this shower handicap-accessible for the McElyeas' special-needs daughter.
The shower is stylistically outdated with bland tile, brass trimmings and basic plumbing fixtures.  Dreambuilder will update the space with fresh tile, updated fixtures and a frameless glass enclosure.  Additionally, the door will be widened from 2′ to 3′ to allow wheelchair access and the shower floor will be re-set to 'zero-entry' for ease in moving the chair in and out.  A grab bar will be installed for stability and a second, hand-held shower head will be plumbed to aid in bathing.
The end result will be a beautiful, updated shower that also meets the needs of the McElyea family.
For more information and current pictures, visit our Dream Home Gallery.