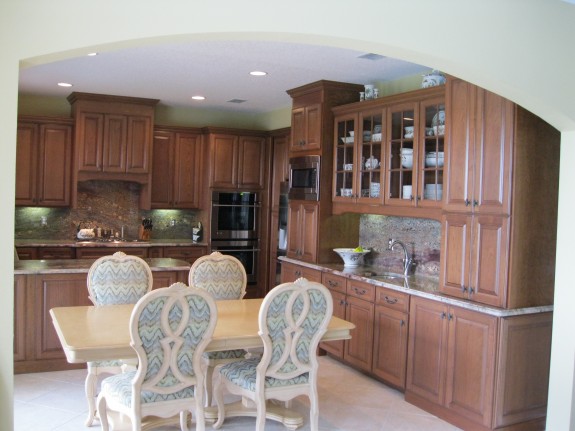 Can a 12-year-old, 260 square foot kitchen be completely gutted and transformed in only eight weeks?  With Dreambuilder managing the project, you bet it can!
The McDonald family built their home on the Intracoastal Waterway with a national production builder.  While please with the home overall, a lingering disappointment was the design of the kitchen which had three distinct problems.  Though somewhat open to the family room via a bar/pass-through, one had to walk out of the family room, into a hall, and then into the kitchen in order to move between rooms.  The breakfast room was on the opposite side of the kitchen from the family room.  This made for a very closed-off feeling in the kitchen and limited the McDonald's ability to entertain. 
Second, the kitchen was crowded due to an island that was really too big for the space, and the location of appliances throughout the kitchen meant constant navigation around the room.  The pantry, tucked in the far corner, was a full 17 feet away from the range and sink areas.
Worst of all, the poor design resulted in kitchen cabinets covering most of the rear wall of the kitchen – a wall completely blocking the McDonalds' beautiful views of the intracoastal.
Dreambuilder stepped in to help and renovated the kitchen into a showpiece in record time.  "Shawn remodeled our kitchen and we couldn't be happier with the results!" said Vivian McDonald.  "The project was on time and on budget."