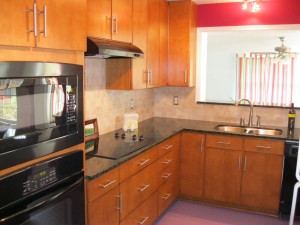 Dreambuilder Custom Homes is pleased to announce the completion of Dreambuilder Twelve:  a kitchen remodel for the Mankowski family in Jacksonville, FL.
This mid-century ranch's kitchen had been remodeled before — about 35 years ago.  The cabinets, while stylish in the '70s, were out-of-date and old.  Additionally, the kitchen suffered from too many doorways, little cabinet space and no pantry.  Appliances were few and barely functional — including an ancient double oven that was a fire hazard.
Dreambuilder worked with Susan Mankowski to design a contempoary kitchen that solved all of these problems.  By eliminating one entrance to the kitchen, we improved traffic flow and had the room to build a new pantry closet.  Larger 42″ upper cabinets and other features further increased storage capacity and versatility.  Widening the doorway into the dining room opened up the space between the two rooms, creating an updated feel common to today's floorplans. 
Dreambuilder's design experience helped Susan create the modern aesthetic she wanted.  Flat slab, full-overlay cabinetry, dark granite countertops and a light tile backsplash create contrast.  Bold paint colors, both on the walls and the concrete floor, finish off the look.  The result is a beautiful, functional kitchen that easily has four times the storage space as the original.  New GE appliances, including a wall oven with microwave, separate cooktop and dishwasher provide all the essentials for cooking.  "Cooking and entertaining is now a pleasure," said Susan.  "I'm now excited to have people over!"
Behind the scenes, Dreambuilder ensured that the home's outdated electrical system was upgraded to support the circuits for the new appliances and outlets required by today's building code.  Additionally, special care was taken to match existing finishes, such as the plaster walls in the living room and the stained paneling in the dining room.
Susan couldn't be happier with the end result.  "The new space is beautiful, functional, and spacious.  Shawn really worked with me to define the kitchen/dining room, made recommendations for appliances, and was very quick to respond to any questions or concerns I had during construction."
Before and after pictures of the project can be found in Dreambuilder's Dream Home Gallery. 
Dreambuilder can help you imagine and create the new kitchen of your dreams.  Contact us today to get started!