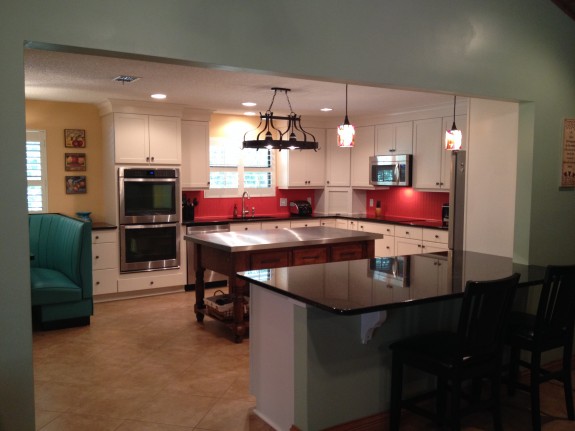 Kara Anderson loved her home — but hated her kitchen!
Built in the 1980s, the kitchen was large and in good condition — but was closed off from the rest of house and showing its age stylistically.  Kara called Dreambuilder in to help her transform her outdated kitchen into a contemporary showplace — and Dreambuilder 23 was born.
"The transformation of our outdated 80′s kitchen to an amazing center piece to our home is amazing," said Kara after working with Shawn Starr, Dreambuilder's president.  "His vision and ideas along with our own created the diner feel while keeping us on budget."
The primary requirement for the project was the removal of the wall between the kitchen and great room, opening up the space.  A new counter-height bar was added for additional seating.  And now, with wide-open views between rooms, cooking and entertaining can easily take place.
Old oak cabinets with blue countertops were replaced with antique white painted cabinets and granite countertops.  By removing the soffit over the old cabinets, 42″ tall upper cabinets were used instead of 30″, increasing storage capacity.  The centerpiece of the new kitchen is the owner's beautiful wood island with stainless steel top.
Over in the breakfast area, the diner-feel was emphasized with a reclaimed restaurant booth.  The bright colors of the booth were complemented with the Honey Blush wall color and the Gladiola backsplash color, courtesy of Sherwin-Williams paints.  These colors are also reflected in the stained glass light fixtures over the booth and the bar.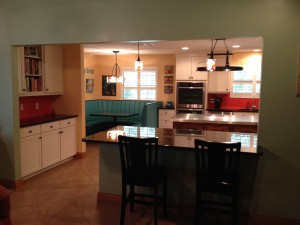 This created exactly the kind of kitchen Kara was hoping for:  a diner feel, colorful and happy, and open to the great room.  New stainless steel appliances and tile flooring finished out the renovation project.
On working with Dreambuilder, Kara commented "Everything was handled in a timely manner and any questions were answered quickly to keep the project on time. I highly recommend his company and look forward to working him with him in the future as we continue to update our home."
You can see more pictures of this project in our Dream Home Gallery.  If you're ready for your own kitchen transformation, contact us today for a complementary consultation.