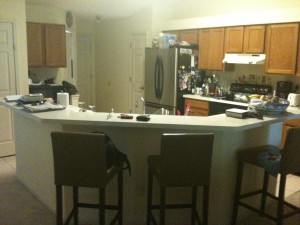 Dreambuilder Custom Homes is pleased to announce its latest remodeling project:  Dreambuilder Eight — a kitchen transformation.
Work has already begun on this project, and completion pictures will be available soon.  "Before" pictures of the outdated, outmoded kitchen can be viewed in the Dream Home Gallery — scroll down to Dreambuilder Eight.
Dreambuilder is handling the complete installation of all new features, including cabinetry, countertops, plumbing and electrical work.