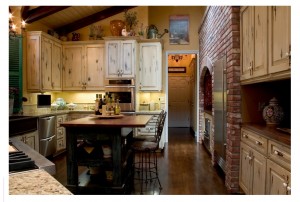 By Bill Lahay
It's one thing to have a favorite architectural or decorating style that is plentiful in your region and recent enough to find examples to inspire and guide you. But what if the look you love is a continent away and spans centuries rather than decades or mere years?
In those cases, often only the most cliched or coarse elements make the transition into an American home design. For example, Tuscan and Mediterranean styles have been trendy for years, but we still see a mostly limited menu of recognizable features — tile roofs, arched windows, textured stucco walls, ornamental wrought iron. Nuanced or personalized elements rarely make the trip across the Atlantic, so homes here tend to take on a generic quality that doesn't reflect the true tapestry of Italian life.
The same fate might await devotees of classical French decor, but a London antiquities dealer has compiled an inspired volume filled with examples and strategies for keeping this look authentic and individualized. Josephine Ryan's Essentially French (Ryland, Peters and Small; $29.95) does have a decidedly unfair advantage in that it features the homes of antiques dealers who either live in or travel frequently to France and thus have occasion to come across hundreds of unique furnishings, accessories and artworks. 
Still, the wealth of choices that results produces some very authentic and appealing homes and, more important, offers valuable lessons on creating something similar even if your locale doesn't enjoy the same quality of natural light or the character of the French countryside.
Just for the record, we're not talking the Palace of Versailles here, nor the gilded excesses of King Louis the whatever-teenth. There are the occasional flourishes of style that might have satisfied the French royal court, but for the most part, these homes are modest and very comfortable for everyday living. Most are hundreds of years old and reflect numerous structural or functional changes that also span centuries, and many contain unusual staircases, tiny rooms and odd but charming features that would, alas, never make it past a modern building code inspector.
As if to dispel any notions of glitzy French excess, Ryan chose the theme of simple French decor for her opening chapter. A careful perusal of the photographs reveals objects that are at once aesthetically appealing yet very humble — terra cotta cheese molds, a rusted iron candelabra, remnants of ornate plaster moldings, a rough stone garden bench, disembodied clock faces, an antique firefighter's ladder.
Many of these items reflect Ryan's philosophy that there is undiscovered treasure in the everyday, and the homes featured in this chapter reveal some consistent strategies:
• Appreciate items for their intrinsic beauty or appeal, not their financial value.
 • Choose utilitarian items that also have good aesthetics or unique character.
 • Feel free to feature multiple themed items in small collections, but stay restrained when it comes to matching sets or ensembles. Informal and asymmetrical balance works best.
 • Don't be afraid to mix different eras or styles.
 • Cultivate a keen sense of color and light, and vary both of these elements. For example, take advantage of natural daylight in rooms with large windows, and use darker rooms for quiet getaway spaces such as a cozy reading den.
Of course a rustic or "peasant" look isn't for everyone, so the book turns next to more elegant decor. This doesn't translate into extreme wealth but rather a slightly upscale and formal look that is still within reach of mere mortal checkbooks.
Here, charming chateaus boast salons equally suited for entertaining or merely showcasing a thoughtful collection of art and artifacts. Small bronzes, porcelain lamps with custom lampshades, crystal chandeliers, and 18th century mahogany furniture pieces make appearances here, while a few original oil paintings and marble statues lend a classical tone.
Despite the added polish, there are no hard and fast distinctions to be found in most of these homes, many of which also sport eccentric or repurposed items that wouldn't be considered "elegant" in any narrow sense of the word. But a pair of large turned staircase balusters make great lamp bases, and in one home old scaffolding planks now serve as window shutters. Another residence features multiple taxidermied birds and small animals (former scientific specimens, not hunting trophies) and even a bizarre desk lamp fashioned from a human rib cage.
These examples segue into the book's third and final chapter, on eclectic decor. Some of the objects depicted are in fact rare or unique (a large antique roulette wheel is topped with glass to serve as a coffee table), while others (an assortment of brass musical instruments arranged as wall art) simply leave behind their original common roles and take on a new twist.
Some of this inventory is definitely more the domain of these antiques dealers themselves, who might offer customers a chance at the items only after they have lived with and enjoyed them a while. Still, it's good fun to see it all, and a resource directory is included for those ambitious readers who want to shop for themselves.
Whatever the chances of readers getting the same access to all of these varied and vintage treasures, Ryan's tour of these homes offers plenty to recommend it. The best or most rarefied antiques will always be more or less elusive, regardless of your budget. What this book offers isn't a catalog but rather a focused glimpse inside a quiet French tradition, and the vision to recognize how so many common and everyday artifacts can come to new life with the right decorative touch.