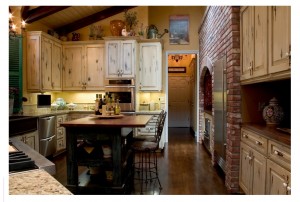 By Bill Lahay
It's one thing to have a favorite architectural or decorating style that is plentiful in your region and recent enough to find examples to inspire and guide you. But what if the look you love is a continent away and spans centuries rather than decades or mere years?
In those cases, often only the most cliched or coarse elements make the transition into an American home design. For example, Tuscan and Mediterranean styles have been trendy for years, but we still see a mostly limited menu of recognizable features — tile roofs, arched windows, textured stucco walls, ornamental wrought iron. Nuanced or personalized elements rarely make the trip across the Atlantic, so homes here tend to take on a generic quality that doesn't reflect the true tapestry of Italian life.
The same fate might await devotees of classical French decor, but a London antiquities dealer has compiled an inspired volume filled with examples and strategies for keeping this look authentic and individualized. Josephine Ryan's Essentially French (Ryland, Peters and Small; $29.95) does have a decidedly unfair advantage in that it features the homes of antiques dealers who either live in or travel frequently to France and thus have occasion to come across hundreds of unique furnishings, accessories and artworks. 
Read more